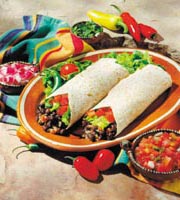 I know it's been a while since you've heard from me, and this is far from an "academic" post, but here we go anyways...
Sometimes, people have different ideas about common things. In some of those instances, the misunderstanding results in a lawsuit.
Just as judges have ruled that a
tomato is a vegetable
(not a fruit), they have now found that a
burrito is not a sandwich.
Panera Bread was suing due to a clause in their lease stating that the mall in which they were located was not allowed to lease to another sandwich shop. Qdoba Mexican Restaurant gets a lease, so Panera sues. Once again, it takes the judicial system to tell us what a sandwich is...