A
New York Times article
reviews the proposed sale of Starrett City, the housing complex that used a race-based application process to ensure a racially and economically diverse residency. The vetting process was subject to a court challenge,
U.S. v. Starrett City Assocs.
, 840 F.2d 1096 (2d Cir. 1988), ending in a repudiation of the program by the Second Circuit. Both pieces are great reads, if for no other reason than to see the efforts taken to provide at least some refuge from gentrification.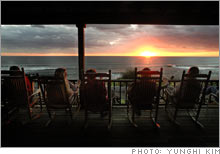 And on the topic of gentrification,
Fortune Magazine reports
on the community of Briny Breezes. Briny is a seaside 43-acre trailer park about 60 miles north of Miami, and is claimed to be "the last significant piece of beachfront property in the area without mansions or a luxury high rise." Homeowners, who paid about $100,000 for a trailer a few years ago, will net a little more than a million dollars each -- provided the purchaser gets municipal approval to develop the land.
* Top photo courtesy of NY Times; bottom: Fortune magazine.